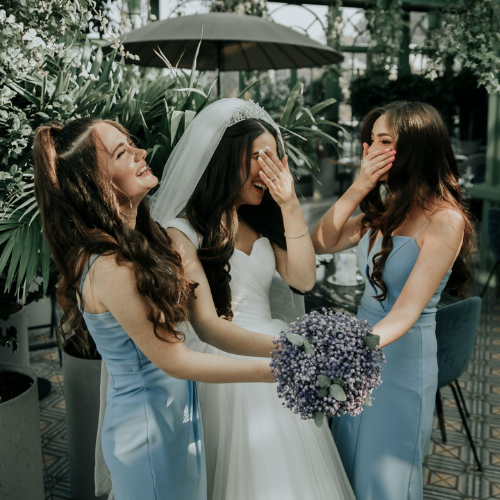 One of the most challenging maid of honor duties can be giving a speech at the reception or wedding ceremony.
Although the MOH is typically someone who knows the bride well as either a best friend, sister, or other family member, public speaking is one of the most common phobias, and the pressure to come up with the right words to describe the bride and groom can leave maids of honor not knowing where to begin.
To give maids and matrons of honor a good starting point for their wedding toast, we've pulled together some helpful tips for making your speech memorable.
How to write a maid of honor speech
How long should a maid of honor speech be?
A maid of honor speech typically only needs to be a few minutes long. Aim for 2-3 minutes, and it shouldn't be longer than five minutes maximum. Very often there will be speeches from the best man, family members, or other members of the bridal party, so the maid of honor isn't responsible for filling up the whole time. Keep it short and sweet!
What should a maid of honor speech say?
People will be interested in hearing about your unique relationship with the bride, any personal anecdotes you can share about the bride and groom's history, and well wishes for the couple. Your toast should be positive and sincere. As the bride's friend or family member, begin your speech with your focus on the bride and then compliment the groom and wish them well as a couple.
How do you make your maid of honor speech funny?
A maid of honor speech does not have to be funny, so don't worry about coming up with a standup routine if jokes aren't naturally your thing! A sincere and straightforward speech is going to be better than awkward or forced humor. That being said, the best way to make a funny maid of honor speech is to focus on telling stories that highlight the couple's unique history. Write down your stories about the couple and look for the naturally funny moments. For example, you might gently tease the bride in your speech with a story about how she texted you in excitement after her first date with her new spouse. Lay on the charm and keep anything crude out of your notes. A maid of honor speech is not the time for crass language, inside jokes that most of the wedding guests won't understand, or anything else that might make the bride or her family uncomfortable.
How do you end a maid of honor speech?
A maid of honor speech should end on a sincere and happy note. Celebrate the couple and how they make each other better, share your love for the bride, offer pearls of wisdom for a happy life together, or recite a meaningful quote. At the end of your speech, wrap up by offering a toast to the couple such as "wishing you both a lifetime of happiness" and raising your glass. If you are seated near enough to the bride and groom, feel free to give them a hug before sitting back down.
10 do's and don'ts for maid of honor speeches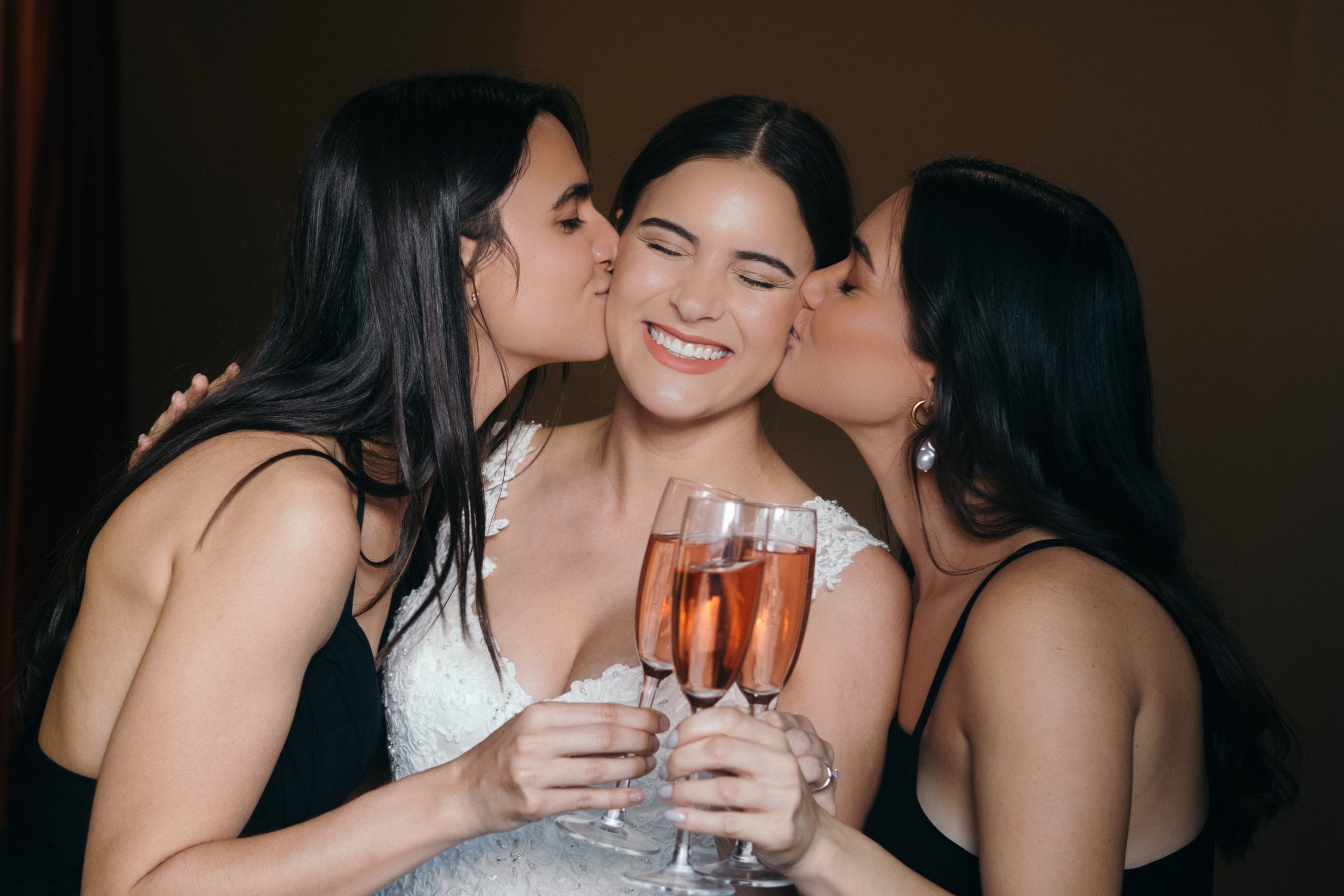 Do briefly introduce yourself
As the bride's good friend or family member, you may assume that everyone there knows who you are, but that might not be the case! Greet the room and briefly share who you are and your relationship with the bride.
Do practice your speech ahead of time
You don't need to memorize your speech word for word (in fact, doing so might make your delivery a little unnatural), but practicing your talking points and cadence ahead of time can go a long way in making you feel more confident on the big day. If you are scared of public speaking, you can write yourself note cards that have bullet points or key phrases that will help you remember the points you want to make without reading word for word. Practice speaking more slowly than you would naturally (we tend to speed up our speech when we are nervous) and pausing to take breaths between transitions. Speaking your toast out loud to yourself will also help you hear any awkward parts or tongue twisters ahead of time so you can iron them out.
Do stay sober before your speech
You can let loose during the reception, but you'll want to have a clear head when making your speech. While a little alcohol might make you feel more relaxed and confident, too much can make your words sloppy, rambling, or less coherent. A drunk speech is not something you'll want the bride to remember about her wedding day!
Do show genuine emotion
Even if you are nervous, remember to smile and make eye contact with the crowd or with the couple. People tend to be able to "hear" when you are smiling or not, and by actively smiling you will set yourself up to appear happier and more confident. Your facial expressions should mirror the speech you are giving and reflect your joy for the couple. It's okay to let yourself get a little emotional as well. If you feel yourself starting to tear up, don't feel like you need to force it back – it only shows your genuine love and happiness for the couple.
Do celebrate them as a couple
You may know the bride much better than her partner, but that doesn't mean you shouldn't include both of them in your speech. If you know both of them well, talk about how beautiful their relationship is or tell funny stories about their history. If you don't know the bride's partner well, focus on how happy they have made the bride.
Don't mention any exes
While exes may seem like a comedy goldmine or an opportunity to favorably compare the groom to past partners, it's simply inappropriate to bring them up and likely to make the bride and her new spouse uncomfortable. Leave exes in the past where they belong! Along those lines, if this isn't the bride's first wedding, avoid jokes about past weddings or marriages.
Don't make it about yourself
Of course, you should feel free to tell stories that include you and the bride or the couple, but the focus should always be on the people getting married. Even if the bride is your sister or best friend, don't make the speech entirely about your relationship to the bride. Avoid inside jokes that outsiders won't understand, and don't go overboard with anecdotes that take too much backstory or explanation. Absolutely don't talk about your own personal relationship stories unless it's to briefly share a piece of wisdom. Even then, those sorts of stories are best left to the mother of the bride or other older family members. Focus instead on what you think the bride would most like to hear from you on her big day.
Don't ramble
When it comes to wedding speeches, sometimes less is more. Long unabbreviated stories will be less impactful than a few short sweet or funny anecdotes. When drafting your speech, write down the things you'd like to include and then edit out things that aren't resonating as you practice. If you aren't sure what to include and what to leave out, ask another friend or family member of the bride to be your sounding board while brainstorming your speech.
Don't be generic or inauthentic
The bride asked you to be her maid of honor because the two of you have a special relationship, and your knowledge of the bride should be reflected in your speech. For example, if you and the bride have a goofy relationship, feel free to play up the jokes or gently roast the couple in a rated PG way, but don't force yourself to say something the two of you would consider "sappy" if that's not who you are as friends.  As the bride's friend you'll know things about her like her passions, quirks, favorite movies, etc. Reference things that are specific to her and her partner to make it a speech that could only be about them.
Don't put too much pressure on yourself
Everyone at the reception is there to have a good time and is already inclined to like you and your speech. We are often our own toughest critics, and it's important to remember that the other guests likely won't even notice little mistakes in your toast. The bride and guests will just be happy to hear from you and to toast the couple together.
Maid of honor speech examples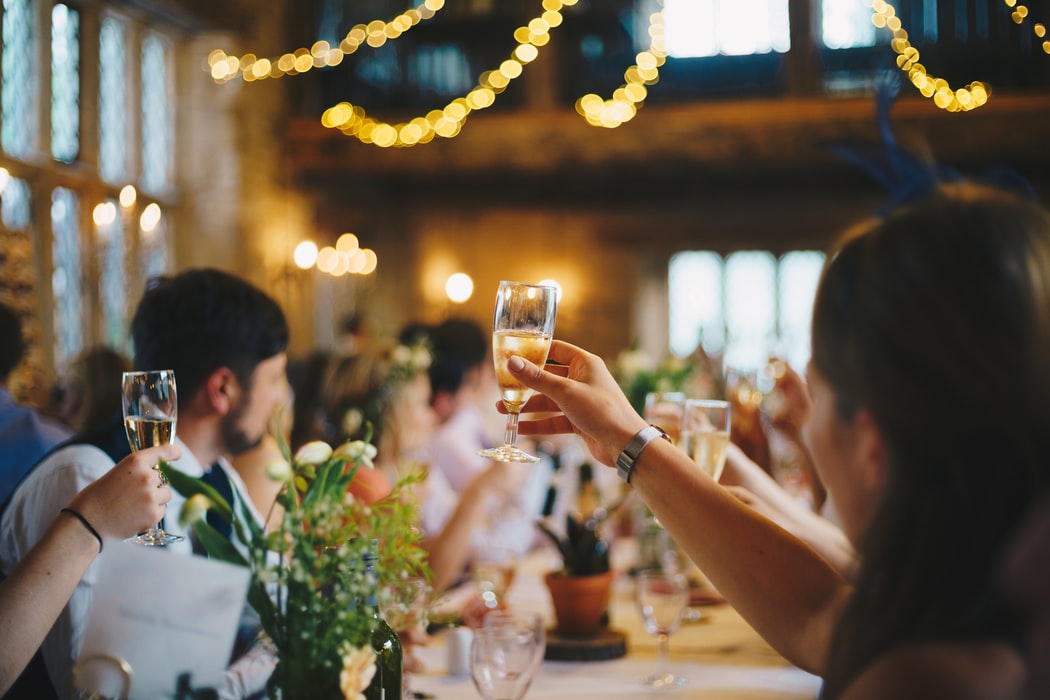 One of the best ways to start brainstorming a maid of honor speech is by using helpful writing prompts like the ones below.
What is your favorite memory together?
What was your first impression of the bride's partner?
How does the bride demonstrate her best qualities? How does her partner do this?
Did the bride tell you when she knew she wanted to marry her partner? How did she know they were the "one"?
Has the couple overcome challenges together?
What makes their relationship unique?
How would you describe their relationship in three words?
How did the proposal happen?
What hopes do they have for the future?
How did you get introduced to her partner?
How have the two impacted each other's lives?
What are they both bringing to the relationship?
What's the funniest story you know about their dating history?
Maid of honor speech templates
For sister:
Start by greeting everyone and introducing yourself.
Ex: "Hi everyone, our family wants to thank you all for being here today to celebrate (Bride) and (Partner). As most of you know, I'm (Bride's) sister, (Name)."
Move on to what you love about your sister, the bride.
Ex: "I feel so privileged to have had (Bride) to look up to throughout my life. She has always been an example to me of what it means to show love through actions. Growing up, I remember she would (insert relevant anecdote). It's memories like these that make me know that (Partner) is one of the luckiest people in the world to get (Bride) as someone to go through life with.
Transition to a compliment about your sister's partner.
Ex: "When (Bride) and (Partner) first met, our family already had an idea that (Partner) was (Bride's) perfect match. When (Bride) first introduced him to us, I could tell that (Bride) had never felt this way about anyone before, and that this was her forever person. I couldn't have chosen anyone better for my sister, and we are so excited to welcome you into our family. Thank you for your kindness, sense of humor, and patience – especially when (Bride) (insert funny anecdote).
Wrap up your speech by toasting the couple
Ex: "Your love and commitment to each other is so inspiring, and it's been so special to watch your relationship unfold. I wish you both a lifetime of happiness, understanding, and joy. I'd like to invite everyone to raise their glasses to the happy couple. Here's to (Bride) and (Partner)!
For best friend:
Begin your speech by introducing yourself and sharing a brief history of your relationship to the bride.
Ex: "Hi everyone. For those of you who I haven't had the chance to meet yet, I'm (Name). (Bride) and I have been best friends since (college/high school/diapers), when we bonded over (insert funny shared interest). It's (number) years later, and I couldn't be happier or more proud to celebrate my friend today.
Talk about what you love about the bride.
Ex: "There are so many reasons to love (Bride). She's smart, kind, and generous, but I think my favorite thing about her is her sense of humor. Something she definitely needed when she and (Partner) (insert funny anecdote). (Bride), you have always had the ability to light up the room, and you are so stunning tonight.
Transition to complimenting the bride's partner.
Ex: "Now, onto (Partner). My first impression after meeting (Partner) was that they were one of the only people I've ever met who could keep up with (Bride's) wit and good humor. However, it wasn't until (insert anecdote) that I realized that he was (Bride's) soul mate. It's been such a pleasure getting to know you as an individual and as the perfect partner for my best friend. Thank you for loving her the way she deserves.
Finish by wishing them both well.
Ex: "It's so easy to see that you two are crazy about each other, and I'm honored to call you both my friends. I can't wait to see the kinds of adventures you will get up to in the years to come. I'll leave you with a quote from (Bride's) favorite poet to take with you after tonight: (insert relevant quote). Here's to the happy couple!
Final Thoughts
We hope this helped get you started on your maid of honor speech writing! Are there any other tips you would have included? Let us know in the comments below or on our Facebook, Twitter, or Instagram!
The Dos and Don'ts of Maid of Honor Speeches originally appeared on www.brilliantearth.com