Discover the jewelry that minimalists are going crazy for to wear alone, stacked, or layered with other fine jewelry pieces that will remain trendy now and for years to come.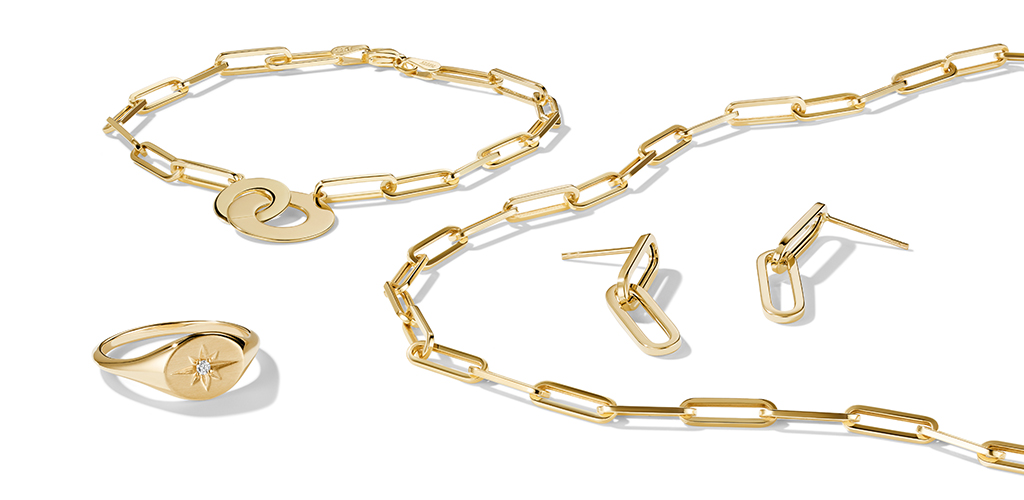 Are you a beginner only just discovering the incredible power of jewelry? Or perhaps you already know what jewels you like, and you're looking to add a more minimalist edge to your style. Whatever category you fit into, we're here to guide you on your journey of discovery.
Minimalist jewelry is and always will be a fashionable option for just about any event or occasion. We've looked at common mistakes made when trying to pull off this look and how we can make it easier for you to rock minimalist jewelry and still look effortlessly stunning. 
Here are our top six tips to look out for when purchasing, pairing and wearing minimalist jewelry like a pro. 
Play It Cool With The Classics 
When it comes to minimalist jewelry, invest in the essentials. Add a few classic pieces to your jewelry box for a chic minimalist style that works every time. Timeless jewelry pieces will always pass the latest trends, whether it's a pair of diamond stud earrings or a dainty pearl bracelet.
Classic or vintage jewelry can be bought for absolutely any occasion and will stand the test of time. They also make for the best gifts and are perfect for both casual and formal environments. 
Make One Bold Statement 
The key to a minimalist style is an outfit that has one showstopping jewelry piece. Whether it be a sleek pair of gemstone earrings or a sparkling diamond ring, a single jewel can keep you looking fashion-forward. Nothing screams minimalist chic more than one impactful piece of jewelry to keep all eyes on you.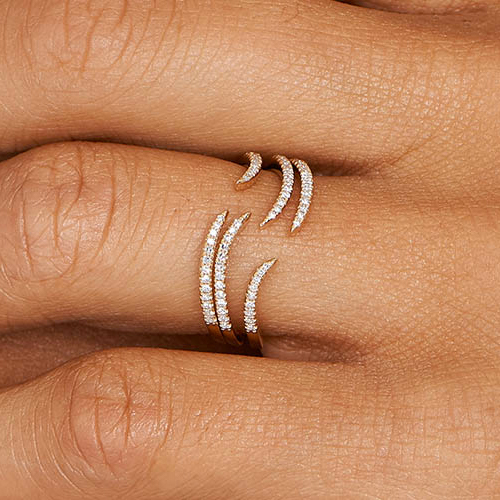 You can pair this edgy and elegant design with more stackable rings or let it shine on its own. 
Keep Your Jewelry Box Light 
Minimalist jewelry can serve you time and time again. Stick to a few versatile pieces that you might wear for both informal and formal occasions with any type of outfit. Here, we suggest starting with precious metals. These metals often appear as clean, sleek lines with smooth satin surfaces.
This type of jewelry is a staple of simple elegance and easy to throw on at a minute's notice. Plus, it's a long-term investment in quality and style you'll get to cherish and wear any time you want. 
Simple, Yet Sparkling 
Just because you're going with minimalist jewelry doesn't mean you need to lose your shine. Diamond jewelry is still the perfect choice for a polished and sparkling aesthetic, like diamond pendants or diamond tennis bracelets. Our only advice here will be to stick to one kind of metal if you wear more than one piece of diamond jewelry.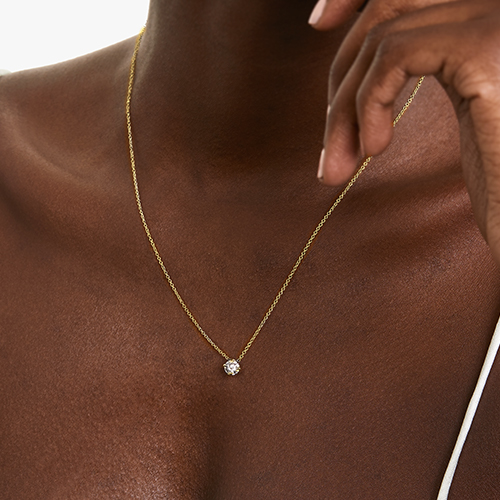 Add a twist to the classic solitaire pendant and dazzle with a sparkling round brilliant diamond. 
Spice Up Your Minimalist Jewelry With Gemstones
A pop of color may be just what the fashionistas ordered. If your outfit of choice happens to be a simple white, beige or black ensemble, gemstone jewelry will serve as your ideal accessory. 
What we love about gemstones is their ability to look fabulous in whichever fine jewelry piece you prefer. Their color will give you the extra finesse your outfit needs to make a statement; from gemstone rings to a chic gemstone necklace, your options are endless. As a minimalist rule, it's less complicated to stick to your favorite type of gemstone and avoid unnecessary mixing and matching. 
Avoid Complicated Designs 
Minimalist jewelry can be fun and explorative, from asymmetric lines for abstract simplicity or perfectly symmetrical pieces that give you a sleek look. Try to avoid designs that are too intricate and move towards more opulent jewelry with clean cuts and smooth surfaces. You don't want to take away from the curated minimalism that comes with uncomplicated jewelry designs. 
Closing Thoughts
We hope you enjoyed this article as much as we loved writing it. Our archives are brimming with fun and helpful tips about fine jewelry. Learn how to match your personality and style with the jewelry of your dreams. You can find our selection of reads below. 
If you have any questions about our products or you'd like to design your own earrings or pendants, visit our website here or get in contact with one of our 24/7 customer service agents here.
More Fine And Minimalist Jewelry Inspiration:
Subscribe to our email list for access to secret sales, practical ring-buying tips, and $100 off your first purchase!
Jessica feels too much anxiety trying to come up with a cool bio. Read her awesome blog post instead.