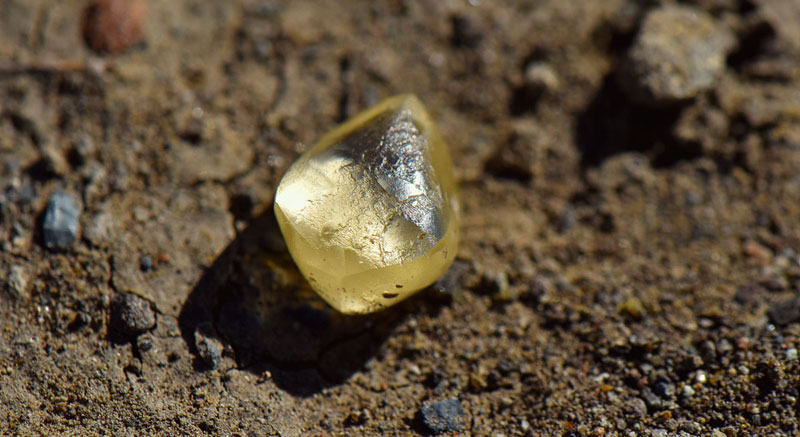 A jellybean-sized yellow diamond has been recovered by a visitor at Arkansas' Crater of Diamonds State Park.
Weighing 4.38 carats, the stone was found on Sept. 23 by Noreen Wredberg of Granite Bay, Calif. She stumbled across the diamond, which was sitting on top of the ground, within an hour of searching with her husband, Michael.
"I didn't know it was a diamond then, but it was clean and shiny, so I picked it up!" she says.
The park's Diamond Discovery Center later confirmed the find was, indeed, a diamond.
"When I first saw this diamond under the microscope, I thought, 'Wow, what a beautiful shape and colour!'" says park superintendent, Caleb Howell. "Mrs. Wredberg's diamond weighs more than four carats and is about the size of a jellybean, with a pear shape and a lemonade yellow colour."
The weather conditions were ideal for Wredberg to find her diamond, according to park interpreter, Waymon Cox.
"Many visitors surface search for diamonds after a good rain," he says. "More than one inch of rain fell at the park between Sept. 19 and 21. The soil had dried a little, and the sun was out when Mrs. Wredberg visited two days later. She was in just the right place to see her diamond sparkle in the morning sunlight!"
Additionally, Cox adds, many of the park's largest diamonds are found right on top of the ground.
"We plow the search area periodically to loosen the soil and promote natural erosion," he explains. "Diamonds are somewhat heavy for their size and lack static electricity, so dirt doesn't stick to them. When rain uncovers a larger diamond and the sun comes out, its reflective surface is often easy to see."
Wredberg's discovery marks the park's largest diamond find so far this year. More than 250 diamonds, weighing more than 46 carats in total, have been registered with the park in 2021. Per day, an average of one to two diamonds are recovered by visitors.
"Arkansas is the only state in the country that has a diamond mine open to the public," says Arkansas Department of Parks, Heritage, and Tourism secretary, Stacy Hurst. "It's such a unique experience and visitors make lifetime memories, whether or not they find a diamond. Of course, finding a diamond adds to the experience!"
Wredberg has dubbed her find 'Lucy's Diamond' in honour of her husband's kitten.
"The name is sentimental to us," she says. "Lucy is mostly grey, but has slight tints of yellow in her fur, similar to the light yellow of my diamond."


4.38-carat diamond found at U.S. park originally appeared via www.jewellerybusiness.com