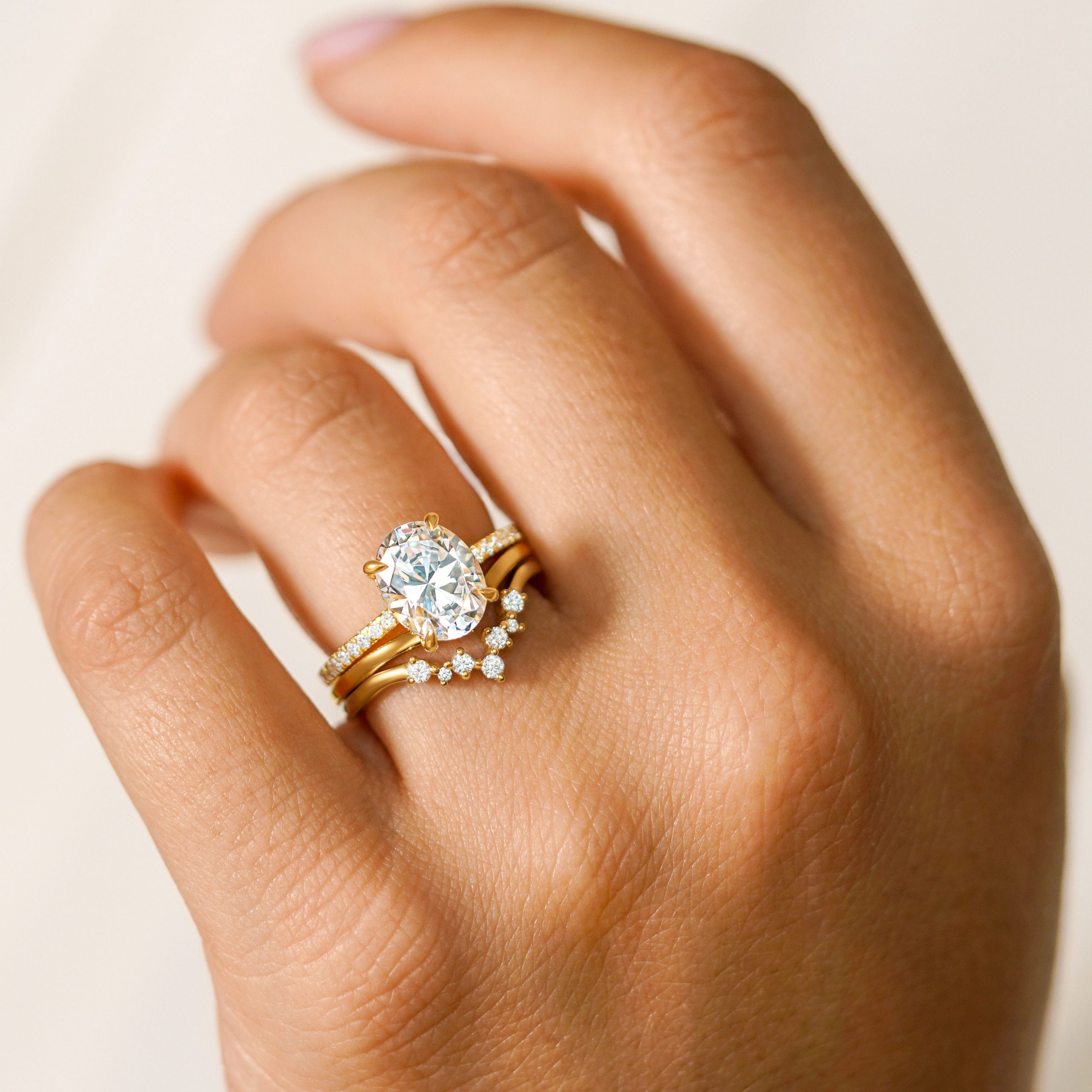 Ready, set, stack! 
One of our favorite trends is the look of sparkling stackable wedding rings. Although a traditional bridal set consists of one wedding band and engagement ring, we're seeing more and more brides opt for a stacked or nested bridal look. By adding diamond anniversary bands for landmark anniversaries, you can also continually add to and update your sparkling diamond stack. 
Read on to discover some of our favorite stacking and nesting rings to complete any bridal look! 
Why do we stack wedding rings?
One of the most popular modern ring-styling trends is the stacked wedding ring look. Ring stacking is a style of jewelry layering that combines multiple rings on one finger. Whether to celebrate an anniversary, milestone moment, or simply for the pleasure of owning a sparkling piece, building a ring stack is a great way to showcase your personal style and allows for endless styling combinations. Ring stacks most commonly start off with an engagement ring, a wedding band, and then finally additional anniversary or stacking rings. These stacking rings can be styled in any combination for a personalized look that is all your own.  
The idea of stacking rings dates back to Ancient Roman times. Roman lore states that the fourth finger on your left hand contains the "vein of love" that leads directly to your heart. Wearing a ring on this finger signified your commitment to love and that your marriage was the closest to your heart. Although this belief isn't scientifically correct, the tradition of wearing rings on this ring finger continues to this day. Western culture has since adopted the idea of adding additional anniversary rings to your bridal set to hallmark milestone moments – thus the modern-day ring stack was born. Today, the stacking ring trend is a symmetry between tradition and fashion.  
What order do you stack wedding rings?
Traditionally, the engagement ring sits on top of the wedding ring and then additional stacking rings are styled underneath. While this is the most common styling technique, stacking rings are meant to showcase your unique personality and can be styled in any number of ways. Although there are no rules when it comes to the endless styling combinations you can create, we have a few stylists' tips on how to start building your stack.  
When it comes to choosing the bands in your stack, the shape, size, and style of your engagement ring will affect how the rings will stack. Many classic engagement ring styles are already designed to sit flush which straight bands and allow for seamless stacking. If your engagement ring features an elongated fancy shaped center stone such as an oval or a marquise, a contoured or nested stack is a great option that also allows stacking rings to sit flush with the engagement ring. If you are drawn to straight bands but they do not sit flush with your engagement ring setting, you can still stack the rings on the same ring finger but wear them with a gap.  
Options are seemingly endless when it comes to selecting what types of stacking rings to pair together. We recommend playing with texture, diamond shapes and sizes, and metal type to add personality and visual interest to your stack. The best place to start exploring your styling preferences is our Ring Stacking tool, which allows you to select your engagement ring and see it paired with up to four stacking rings. You can mix, match, and repeat until you create your dream ring stacking combination. If you have questions about which stacking rings to pair with your engagement ring, contact a Brilliant Earth Jewelry Specialist for personalized assistance. We are always excited to help you create your dream stack! 
Yellow Gold Stacking Rings
Midi Half Moon Diamond Nesting Ring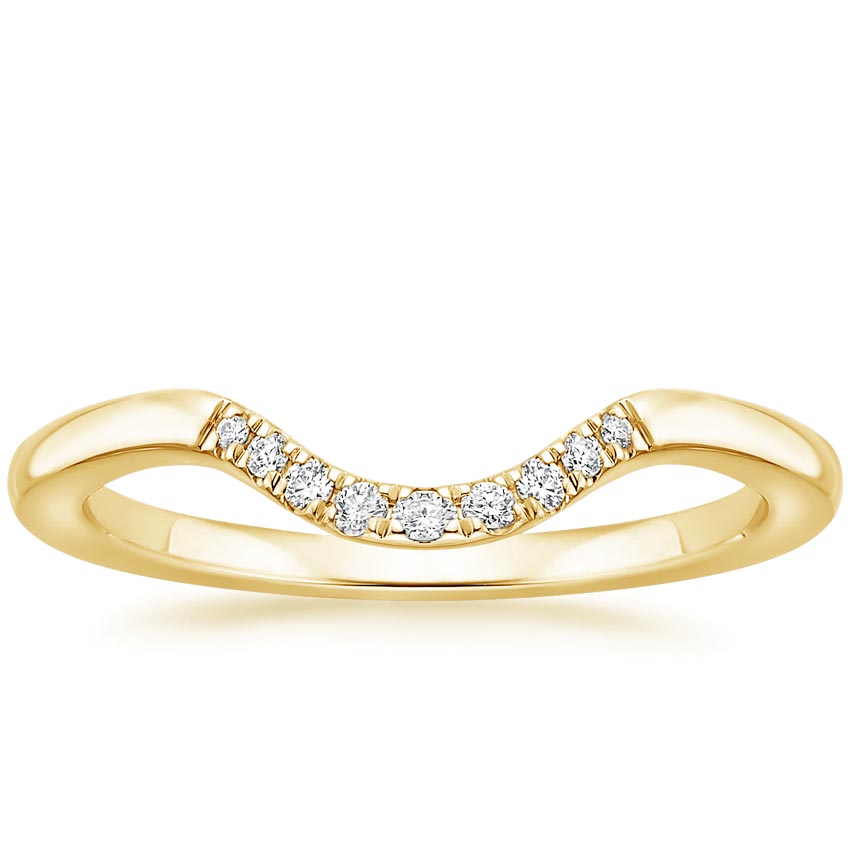 A top stacking ring trend, the contoured and nested rings from our Ensemble Collection are meant to be stacked harmoniously in a stack. A diamond-accented and sophisticated curve creates a chic look in this Midi nesting ring. 
Aimee Diamond Ring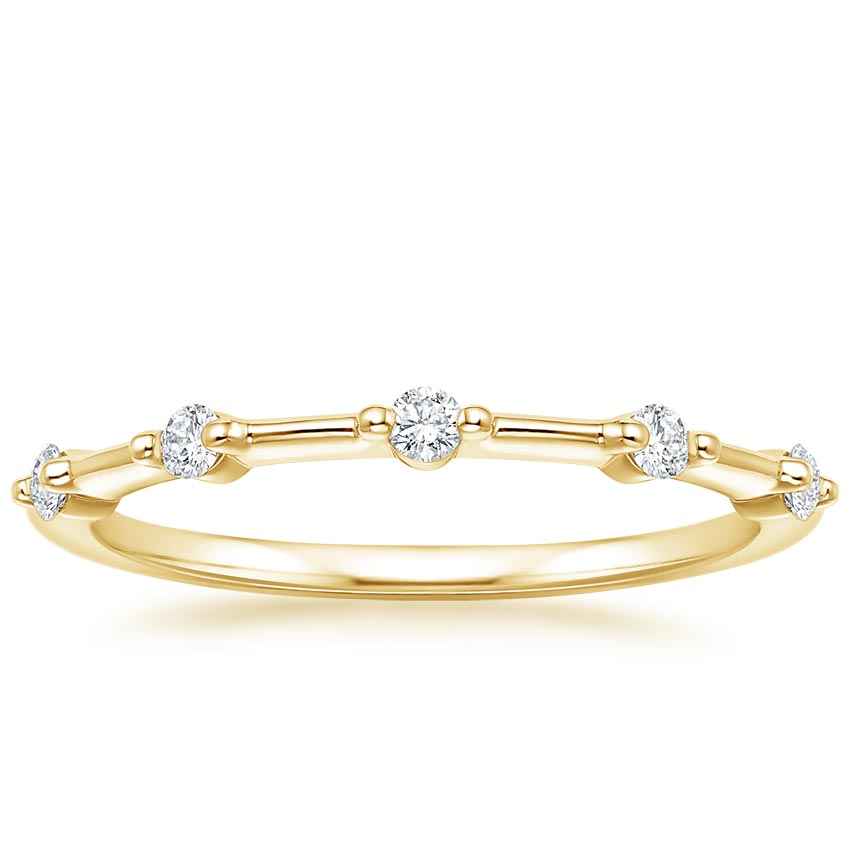 An ultra thin shank is adorned with shared prong-set diamonds spaced elegantly half of the way around the band for a sophisticated and alluring look. 
Rose Gold Stacking Rings 
Luxe Ballad Diamond Ring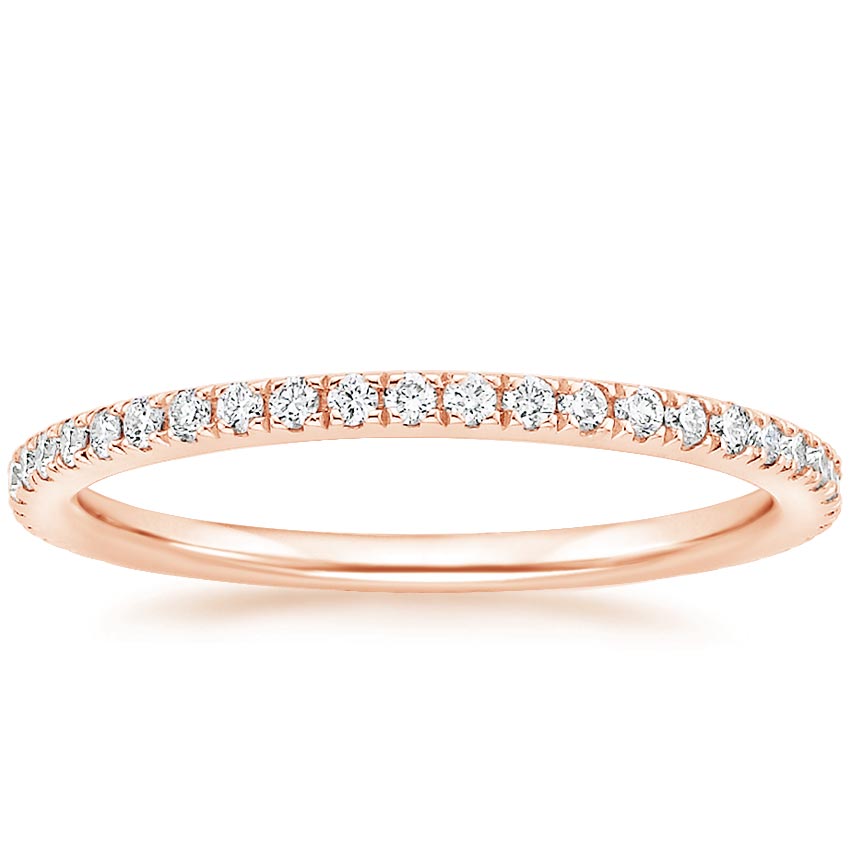 This petite diamond ring features scalloped pavé diamonds in elegantly sculpted prongs that extend three-fourths of the way around the band, leaving a small sizing bar in back. It is an effortless complement to many engagement and stacking ring styles.  
Marseille Diamond Ring 

Floating shared prong diamonds shimmer from the top half of this delicate and luminous wedding band for a spectacular look. 
Platinum Stacking Rings 
Wren Diamond Ring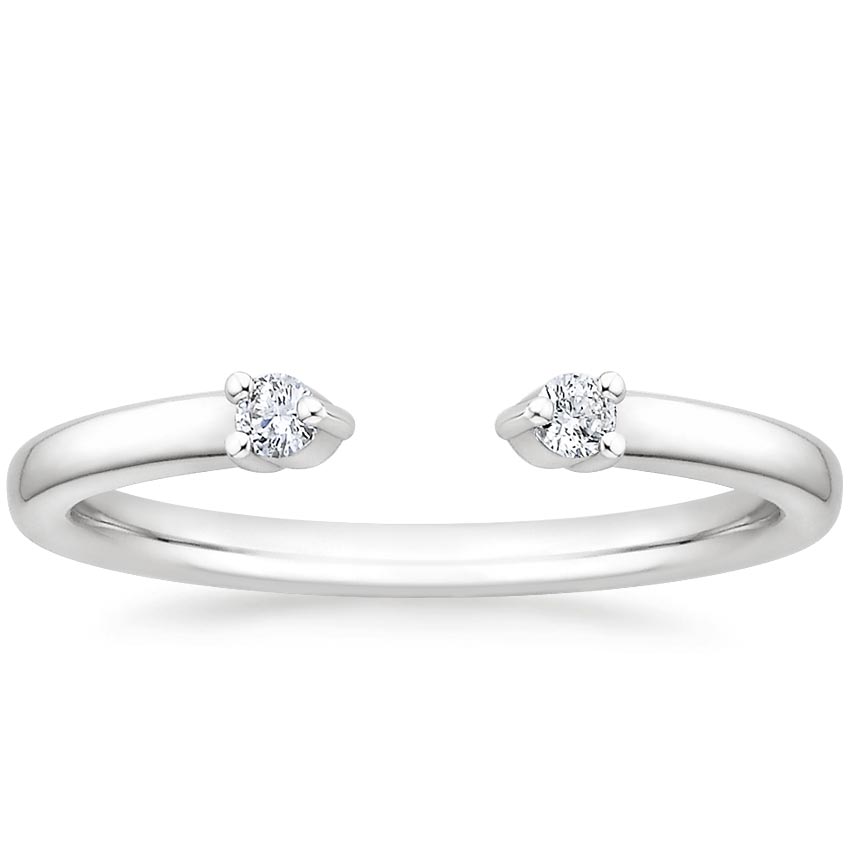 Two prong-set diamonds rest at the ends of a smooth metal band, leaving a small opening to perfectly fit many engagement ring styles. 
Versailles Diamond Ring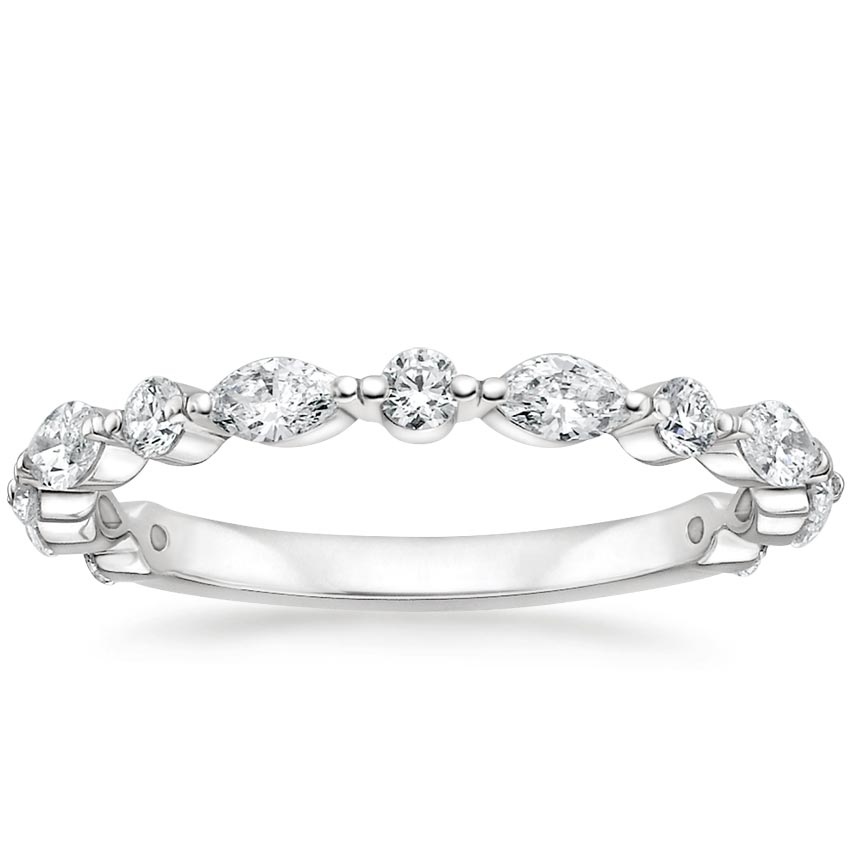 A fan favorite, alternating round and marquise diamonds create an alluring pattern across the top of this chic and distinctive ring. Stacking rings featuring fancy shaped diamond accents make a chic and distinctive addition to any ring stack.  
Diamond Stacking Rings 
Lunette Diamond Ring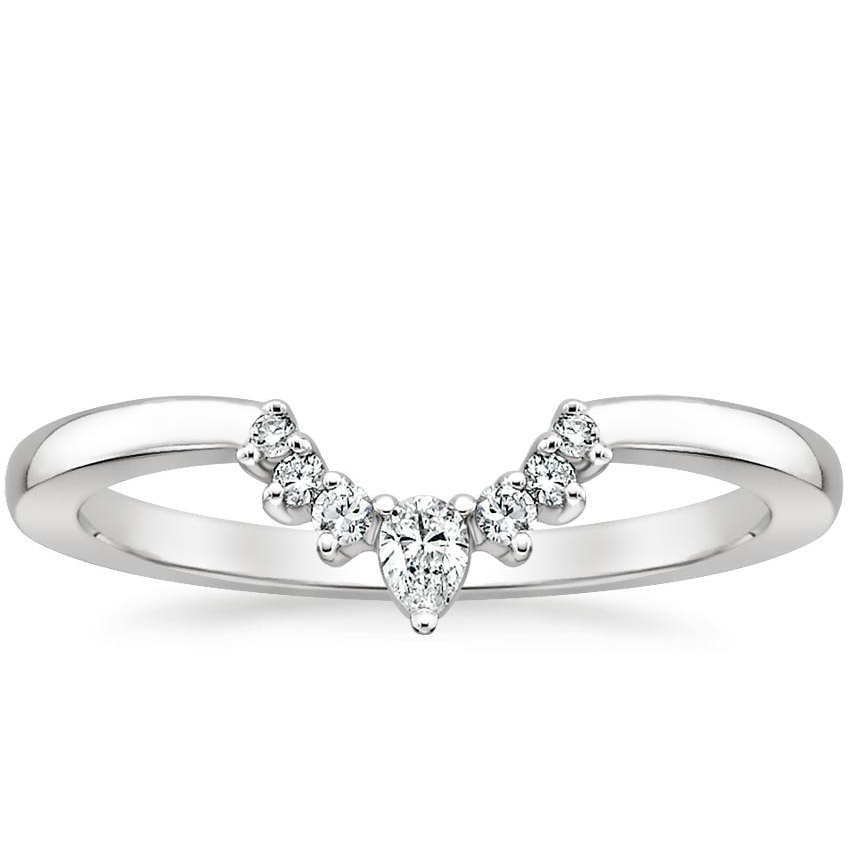 Contoured stacking rings embrace your engagement ring in a unique way and pair particularly well with engagement rings featuring fancy shaped diamonds. Sparkling diamonds meet at a point in this sleek crescent-shaped ring, perfectly styled to complement an engagement ring and stack with other rings. 
Valencia Diamond Ring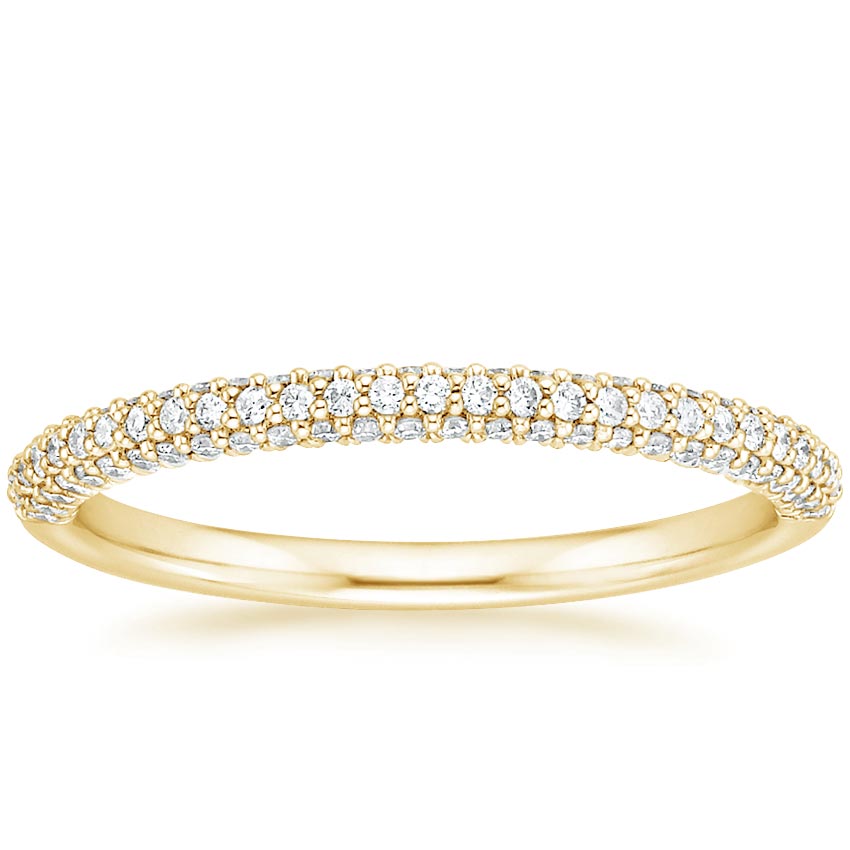 This ring adds the perfect amount of sparkle to any stack. Micro-pavé diamonds sparkle from every angle of this petite and glamorous domed band, making it the perfect ring for any special occasion. 
Unique Stacking Rings
Rose Cut Contoured Diamond Ring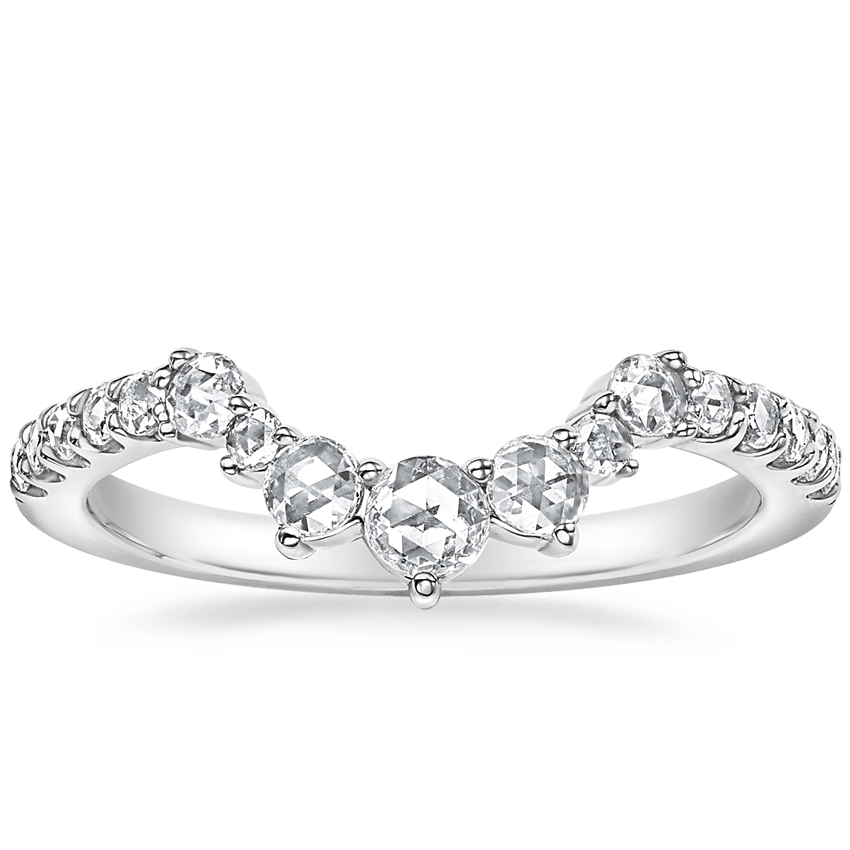 Rose-cut round diamonds form a unique crescent shape and flow half-way down the band in this alluring contoured ring made to fit perfectly with many engagement setting styles. 
Coastal Ombre Ring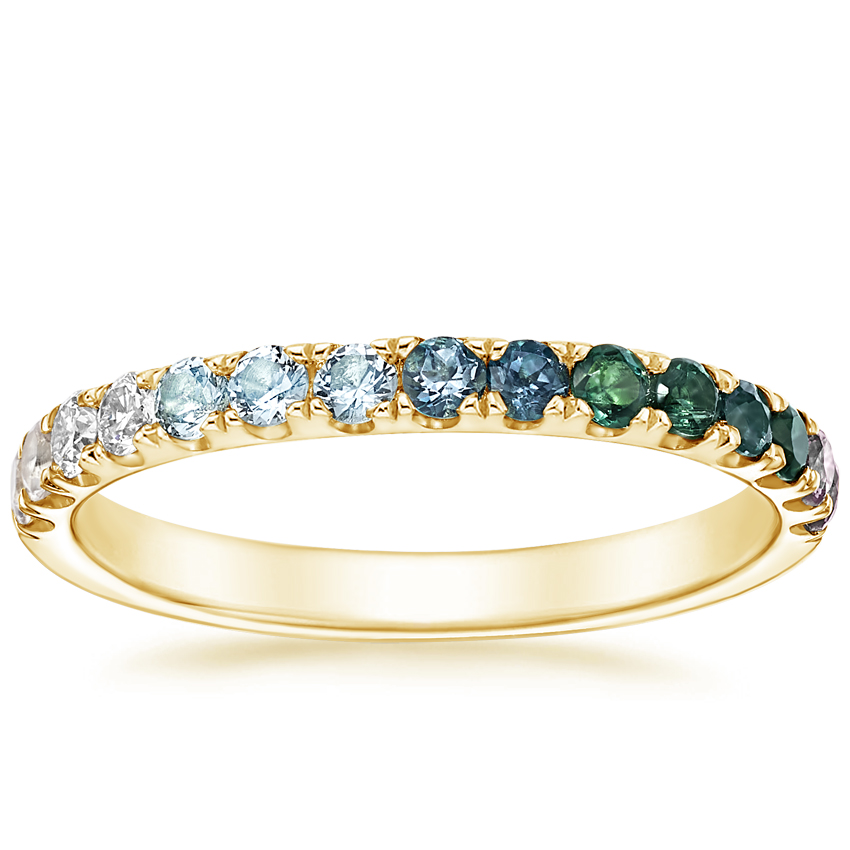 Why not add a pop of color? Shimmering diamonds, sapphires, aquamarines, lab alexandrites, and sunstones create an eye-catching ombre effect that wraps half of the way around this chic, whimsical ring. 
Stacking Ring Sets 
Arch Diamond Nesting Ring Stack 
A powerful stack, these three chic rings can be worn together, paired with an engagement ring, and easily worn by themselves. 
Sunburst Diamond Nesting Ring Stack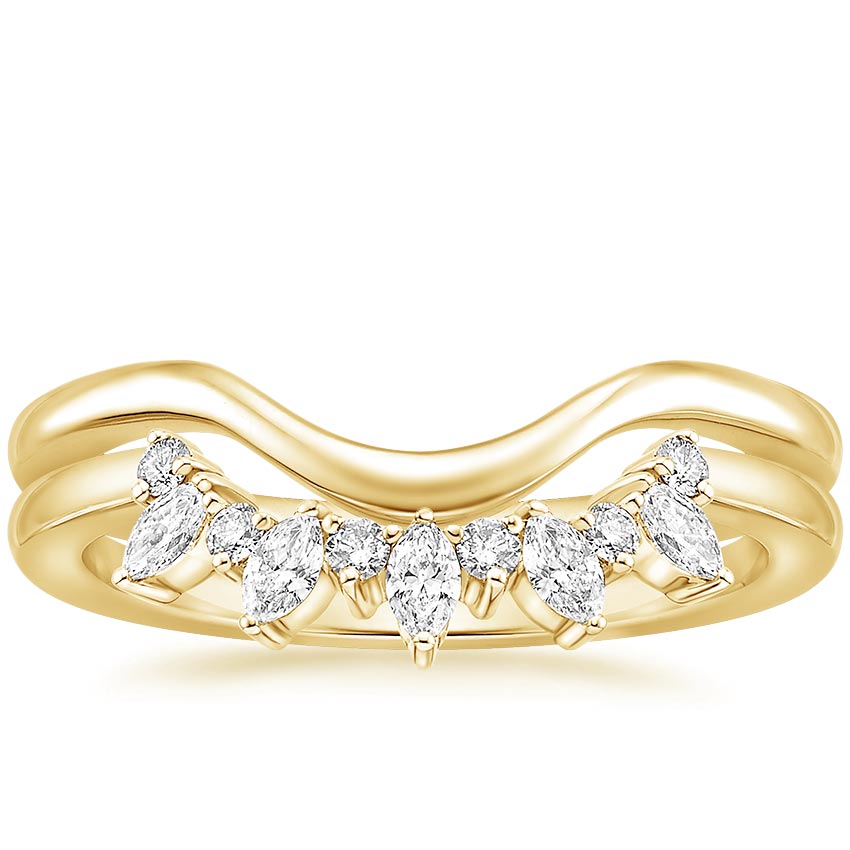 A shimmering sunburst of diamonds along a curved band is paired with a plain curved band to create the perfect sophisticated stack. 
Final Thoughts 
Which styles would you add to your dream stack? Let us know on Instagram, Facebook, Twitter, or in the comments section below! 




12 Stacked Wedding Ring Ideas to Complete Your Bridal Look originally appeared on www.brilliantearth.com