Everyone deserves to wear a piece of jewelry that is as unique as they are. For men, traditional yellow and white gold wedding bands are just the tip of the iceberg in men's wedding jewelry trends. Join us as we explore statement styles of one-of-a-kind forever rings.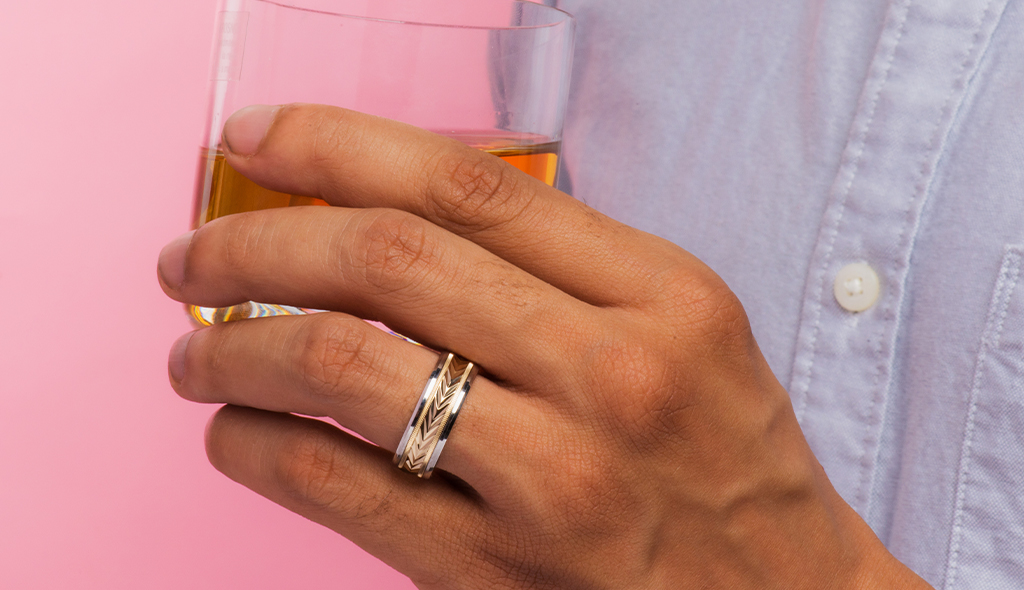 Believe it or not, there are more to men's wedding bands than the simple and popular classics. There are men's wedding rings that come in all shapes, sizes, and styles. From a touch of extravagance with diamond rings to alternative metals with patterns and textures aplenty, skies are truly the limit on choices for men's wedding bands today. 
It's all a matter of preference and taste. At James Allen, we value our customer's individuality and unique styles. That's why we've taken the time to highlight ten exquisite rings that are sure to stand out and show off the personality of their wearers. After all, a wedding ring is a symbol of two partners' love and unity.  
Picking a wedding ring for your future husband should take some time and thought. It's not always easy to get it right, but the trick is to go with something that reflects your partner's unique style and character. Read on while we unpack our top 10 most unique men's wedding bands. 
Textured Wedding Bands
Textured wedding rings offer dimensions to any band while gracefully hinting at the personality and interests of their wearers. These rings are perfect for men who work with their hands, enjoy outdoor activities, and like a rugged look to their most precious accessory. 
Textured rings can be rough, with indented, grooved, and carved features circling the band. Unlike smooth and polished surfaces, these rings accentuate the idea that there's a masculine edge to them without taking away from the true meaning behind a traditional wedding band. 
These unique men's wedding bands are on the rise and come in just about any gold and alternative metal. Their versatility makes it easy to get the metal of your choice and the style you prefer. 
Two-Toned Wedding Bands 
Men's two-toned wedding rings come in a wide range of styles and materials. Combine two metals in a stripe or line around a thicker wedding band for a delicate touch or create more dimensions to a narrow band. 
A two-toned wedding ring will perfectly reflect your love and your partner's unique sense of style in one polished band. It's the ideal choice if your groom's personality is bold and he loves to stand out. 
Diamond Wedding Bands 
They say diamonds are a girl's best friend, but we know even the roughest and toughest gentlemen will oh and ah over the brilliance of a little sparkle. 
Diamonds are resilient and can handle the obstacles of any man's lifestyle while being the perfect representation of strength and eternal love. This unique men's wedding band looks excellent as a thicker ring, and the diamonds simply add a touch of glamour for the groom. 
Gemstone Wedding Bands
If diamonds aren't your style but you're still looking for something with a bit of sparkle, a hint of color may be just what the doctor ordered. Precious gemstones are rare and full of spirited meaning, like sapphires, for example. These stones have typically represented longevity and prosperity for centuries. 
You don't have to believe wholeheartedly in their symbolism to know that they make for stunning unique men's wedding bands. The darker blues and blacks give the wedding ring a handsome and bolder look while hinting at a more luxurious style. 
Alternatively, if you like the idea of darker-colored wedding bands but prefer to skip the extra shine, check out our collection of men's black wedding rings.
Patterned Wedding Bands 
Now for the fun men's wedding rings. Patterned wedding bands can be the perfect choice for any groom who loves the idea of wearing a piece of jewelry that has indented symbols, pictures, or artful motifs. A personalized design is our equivalent to a custom-designed ring. It shows the heart of its wearer while giving them everything they've ever wanted in their wedding band.
Patterned rings are just as versatile as textured wedding bands and are not limited to a specific metal. You can get a patterned ring on a budget by opting for an alternative metal if you're looking for something less traditional and a bit more flashy.  
These unique men's wedding bands can give that something extra while showing off the wearer's personality through its art. We also find these rings to be a thoughtful, romantic gesture. Gifting your soon-to-be husband with a ring that speaks to his style, identity, and even his favorite interest shows just how much you care. There will be no question as to how much effort you've put into getting the perfect wedding band. 
Most Asked Questions About Men's Wedding Bands 
Now that we have our unique men's wedding bands out of the way let's look at the semantics behind other important wedding ring questions.
Who Buys The Groom's Wedding Band?
In today's modern culture, it's likely you, the groom's partner, will buy his wedding ring. You can do this by yourself or with the help of your family. Alternatively, if you and your fiancé have a shared budget, then you can both decide how much to spend on your rings together. 
How Much Should You Spend On The Wedding Band?
It all comes down to your budget and the groom's expectations. It's important first to work out what style band he would prefer. The more expensive metals like platinum and diamond rings can push you just past $2000. In comparison, you can get alternative metal bands starting at $100 and classic wedding rings starting at $270. 
Do Men Also Wear Engagement Rings?
Traditionally the person who proposes to their partner would not wear an engagement ring. However, traditions are changing, and it has more to do now with what you as the couple want. 
Men's engagement rings are increasing in popularity, and so if it works for your budget and it's something you'd both like, hop on the new trend! 
Final Thoughts 
When it comes to picking unique men's wedding bands for you, James Allen has all the tools and convenience you need to find the perfect fit. Visit our wedding ring page for all you need to know about the different metals, styles, designs, and more! 
Direct any questions you have to our 24/7 customer service team, and they'll gladly assist you. 
Got time? Check out our related articles below.
Subscribe to our email list for access to secret sales, practical ring-buying tips, and $100 off your first purchase!
Jessica feels too much anxiety trying to come up with a cool bio. Read her awesome blog post instead.


10 Unique Wedding Bands For The Modern Man originally appeared via blog.jamesallen.com