Our brides and grooms-to-be are choosing vintage engagement rings as their "something old."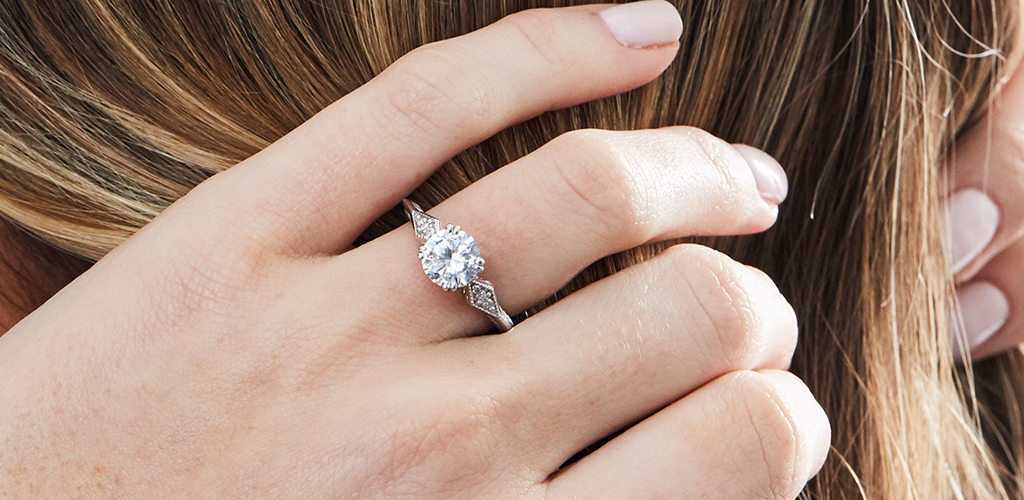 As the saying goes, you can't look to the future without embracing the past. Vintage engagement rings perfectly encapsulate the glitz and glamour of the time, transporting the wearer to a place of romance. Thanks to modern setting techniques and materials, the durability of these rings has greatly improved, allowing for more intricate craftsmanship.
Who doesn't love a sparkly throwback? Our customers certainly do, which is why they've lavished the most praise on these vintage engagement rings. Let's bring on the nostalgia and see why these antique beauties are making their way as the newest craze. 
Vintage Is The New Modern 
Vintage rings are appealing to many modern-day customers because they offer a wider range of styles. From Art Deco to Edwardian engagement rings, a vintage design on your finger will leave you feeling like you're wearing a one-of-a-kind jewel. These 20th-century inspired rings are a classic expression of the Victorian romantic era with their floral designs and lacey frames.
Alternative engagement rings are in fashion now more than ever. Why, you may ask? It might be the growing need for a sparkling ring that speaks to the wearer's individuality, or perhaps because antique and vintage engagement rings are more sustainable overall. Both of these are true, but our favorite reason is that these period pieces are simply irresistible. 
A Unique Aesthetic
Rare and timeless are just a few words to express just how unique your vintage engagement ring will appear, no matter the timeline. Whether your style changes in the future, the diversity of your ring's personality and character will evolve with you. 
We all have our own tastes, and that is why you deserve to wear an engagement ring that embodies your unique traits through its detailed designs. 
More Than A Diamond 
We know we've gone on and on about how unique vintage engagement rings are. However, when you take into account what your engagement ring means to you and your partner, there really isn't a better way to express just how special and rare your love is than the very thing you'll be wearing to show off that promise of forever. 
That being said, if you love the idea of a truly antique engagement ring, play around with different eras and do your research before you make the big decision. While a dazzling diamond sparkler might seem like the perfect choice, know that vintage engagement rings are also the ideal designs for gemstones too. 
Glamorous Beauty 
Vintage jewelry tells a story and can be presented as a small piece of art on your finger. There's something intimately appealing to the fact that your vintage engagement ring was created not only with the elements of the romantic era it is influenced by but the imagination behind its craftsmanship. 
Vintage-inspired jewelry certainly takes us back to a more glamorous time. We just need to watch films like 'The Great Gatsby' to be reminded just how well a vintage engagement ring encompasses the very essence of what it means to be glamorous and in love. 
Your Style Statement 
In a world where trendy engagement rings like sparkle-filled halos are becoming the norm, it's breathtaking to stand out amongst the crowd with an embellished antique. 
Stars like Katie Holmes and Miley Cyrus have all worn stunning vintage engagement rings, with excerpt scrollwork, intricate detailing around the band, and center stones that would make anyone jealous. 
Closing Thoughts
Inspired? We hope you enjoyed this little trip down memory lane and have come to love and appreciate the real vintage-inspired classics as much as we do. We'd love to let you in on a secret: At James Allen, you can design your very own vintage engagement ring using The Ring Studio. Visit us here and have the time of your life customizing your unique sparkler. 
Still curious about vintage treasures? Read more below! 
Subscribe to our email list for access to secret sales, practical ring-buying tips, and $100 off your first purchase!
Jessica feels too much anxiety trying to come up with a cool bio. Read her awesome blog post instead.


10 Timeless Vintage Engagement Rings originally appeared on blog.jamesallen.com